In preparation for becoming Candarian demons, the cast of "Evil Dead: The Musical", had their faces cast is plaster.
And here's what happens as a result of the "Purple Stuff" and the "White Stuff"
Here's what the cast had to say about the process of getting their faces cast in plaster:
Aurelie Roque: 
"First they greased me down in the face-ular area, which was hot, and then I couldn't talk, see, or move my face for over half an hour, which was not (I have a small issue shutting up sometimes). Then they pulled it off my face, which had a somewhat strange sensation on my eyelashes."
Sam Wright:
"The unearthly goo spread around my face, blinding me to the world and slowly sealing off every means of respiration. Biting back panic with clenched and bespackled jaw, i silently focused on two things. One, drawing sweet air through the single pinpoint left below my nostrils, and, two, the horrifying certainty that one slip of the ASM's hand would be my last breath!"
Dana Nicholson:
The Goo. How do I love you? Let me count the ways... 1. You make me look like I belong in Blue Man Group. 2. You require two women to massage my face simultaneously until "it gets hard." And 3....You pull my hair. Yowza. It was good for me. Was it good for you?
Ethan Miller:
Felt cold and heavy. I talked to Mara and Courtney a little bit, but then I just started listening. It's amazing how clearly you hear everything when you can't see. They were talkin about skittles covered in pop rocks. one of them said you couldn't even taste the skittleness.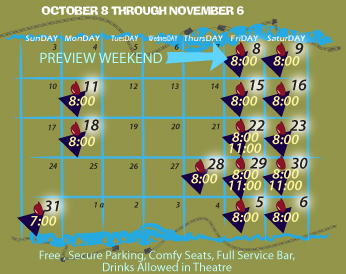 Visit our friends at Full Moon Productions - Featuring THE EDGE OF HELL and THE BEAST

Free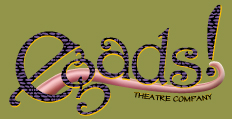 Visit us on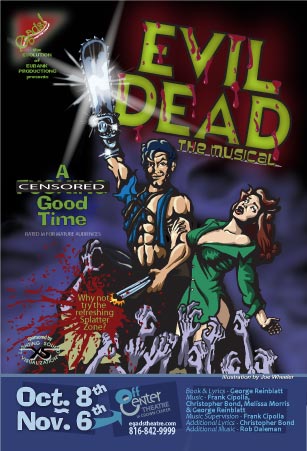 EVIL DEAD: THE MUSICAL
An All-singing, All-Dancing, Bloody Extravaganza
You don't have to like zombies, horror movies or even musicals to love this show - you only need to like having a f@#%ing good time! Culled and cultivated from Sam Raimi's horror classics, this hard-rocking farce follows five college students to an old abandoned cabin in the woods where they unleash an ancient evil force, bent on converting them to Candarian demon zombies. That is, until Ash (an unassuming S-Mart employee) wields a trusty chainsaw to become a demon-killing-hero in the most frenetic theatrical experience this side of Hell. Blood will spray, chainsaws will roar, limbs will fly, demons will tell bad jokes until you're all DEAD BY DAWN!!!!

Standard Pricing:
$20.00 for center seating;
$15.00 for right and left side seating; and
$12.50 for student rush. 
Group Rates available for groups of 10 or more